76.2
Overall Score
(down 1.5 since Aug 1st.)
39.7

Public Health
Directives

57.3

Financial
Response

100

Fact-Based
Communication
Canada has a relatively strong score, with poor public health policy countered by a continued reliance on fact-based communication.
Pre-COVID Conditions
Canada is relatively strong for its pre-pandemic capacity, as it has widely accessible universal healthcare, minimal inequality, and a very healthy population, but few hospital beds, particularly in comparison to other high-income countries, hurt its score.
Debt/GDP ratio

89.9%

GDP/capita

$52,144

Gini coefficient (out of 100)

33.8

Infant mortality rate (out of 1,000 live births)

4

Healthcare access score (out of 100)

87.6

Hospital beds/1,000 People

19
Government Response
Select a data point for more information
(Data points represent policy level as of Oct 1.)
39.7
Public Health Directives
Canada has released very little emergency healthcare funding and has had a relaxed lockdown, and testing remains limited to very specific groups, making for a public health score around the median.
Stay at home order

1

Public gathering restrictions

4

School closings

2

Public event cancellations

2

Testing policy

3

Emergency healthcare investments/capita

$15.18

Travel restrictions

3

Tests/1,000 people

194.9

Contact tracing

2
Canada offers comprehensive income support for workers, including seasonal workers and the unemployed, but debt forebearance is limited, and its stimulus was relatively small.
Financial stimulus as share of GDP

15%

Income support

2

Debt forebearance

1
100
Fact-Based Communication
Canada has prioritized clear, regular communication with the public, including daily briefings by Prime Minister Trudeau.
Reliance on science/fact based information

0

Press freedom

0
COVID-19 Status as of Oct 1
Canada's current status for COVID-19 is relatively strong, with fairly low death and case rates and a very low positivity score, suggesting that it is testing a wide range of people, not just the sickest.
Total deaths

9,297

Death rate per 100K

246.3

Total cases

158,758

Cases per 100K

4,206

Percent of positive tests

2.1

Change in positivity rates

+1.3
Case Trend Line
Daily cases
Level 1 Lockdown
Compared with Other Western Hemisphere Countries
48.2

Brazil

4,810,935
Cases 22,633
Per 1M 143,952
Deaths

Brazil has a relatively weak score, primarily due to its poor public health policies, especially its very low levels of testing, coupled with President Bolsonaro's spreading of misinformation about the virus.

52.8

Mexico

743,216
Cases 5,764
Per 1M 77,646
Deaths

Mexico's score has deteriorated over time, due primarily to its extremely weak financial response and relatively weak public health policy, including very limited testing.

39.1

United States

7,233,043
Cases 21,852
Per 1M 206,928
Deaths

Still battling widespread COVID-19 cases and deaths, which were exacerbated by the former administration's limited use of facts and science, limited emergency healthcare spending, and limited debt relief, the Biden administration, by contrast, is taking aggressive action to combat the virus, although it may take time for the score to reflect these changes.

76.2

Canada

158,758
Cases 4,206
Per 1M 9,297
Deaths

Canada has a relatively strong score, with poor public health policy countered by a continued reliance on fact-based communication.
Be the source of actionable insight.
Select one of the subscription options below to read the full Covid-19 Global Response Index. Unlock even more global intelligence with a subscription to FP Insider.
Already an FP Insider? Log In
Looking for group access? Contact us directly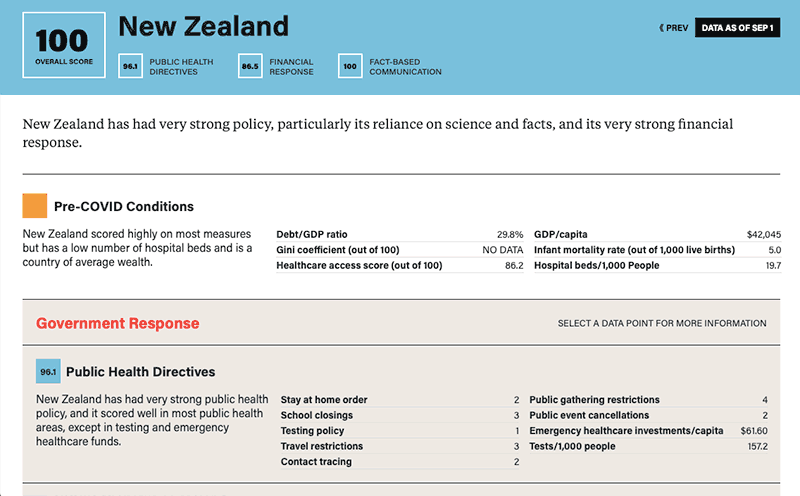 Statistics and government response factors available on each country profile include:
Pre-COVID Conditions:
Debt to GDP ratio
Infant mortality rates
Hospital beds per 1,000 people
Gini coefficients measuring inequality
Health access and quality
COVID-19 Public Health Directives:
Stay-at home orders
School-closing policy
Public-gathering restrictions
Cancellation of public events
Testing policy and rates per 1,000 people
Emergency healthcare spending per capita
Travel restrictions
Contact tracing
COVID-19 Financial Response:
Stimulus package as a share of GDP
Income support
Debt-forbearance
Public Communications:
Instances of misinformation by leadership
Limitations on press freedom, censorship
Current/Historic In-Country COVID-19 Status:
Death rates per 1 million
Case rates per 1 million