83.2
Overall Score
(up 8.4 since Aug 1st.)
Ghana
68.9

Public Health
Directives

62.1

Financial
Response

100

Fact-Based
Communication
68.9

Public Health
Directives

62.1

Financial
Response

100

Fact-Based
Communication
Ghana scores strongly on the Index, due primarily to its proactive public health policy, strong examples set by leadership, and reliance on facts; while consistently strong, it does have very weak testing, limited emergency healthcare spending, and a weak stimulus.
Pre-COVID Conditions
Ghana's poor population health, weak healthcare system, low number of hospital beds, and low GDP per capita resulted in it being in a relatively vulnerable position pre-pandemic.
Debt/GDP ratio

59.3%

GDP/capita

$7,343

Gini coefficient (out of 100)

43.5

Infant mortality rate (out of 1,000 live births)

35

Healthcare access score (out of 100)

49.7

Hospital beds/1,000 People

5.8
Government Response
Select a data point for more information
(Data points represent policy level as of Mar 15.)
68.9
Public Health Directives
Ghana's strong contract tracing and restrictions on public gatherings garnered it a strong public health score, although the country has very limited testing and weak emergency healthcare spending.
Stay at home order

1

Public gathering restrictions

3

School closings

0

Public event cancellations

2

Testing policy

2

Emergency healthcare investments/capita

$3.22

Travel restrictions

4

Tests/1,000 people

31

Contact tracing

1
Despite a relatively low case rate, Ghana provided stimulus funding to address COVID-19, although it was a small amount.
Financial stimulus as share of GDP

2.6%

Income support

0

Debt forebearance

0
100
Fact-Based Communication
Ghana's leadership has not engaged in the spread of misinformation or conspiracy theories in its communications, but rather emphasized prevention measures and basic hygiene practices.
Reliance on science/fact based information

0

Press freedom

0
COVID-19 Status as of Mar 15
Having managed an uptick in cases after easing restrictions, Ghana's case rate has remained among the lowest levels in the Index, although its positivity rate has gotten relatively worse in the past few months.
Total deaths

217

Death rate per 100K

7

Total cases

87,985

Cases per 100K

6

Percent of positive tests

6.2

Change in positivity rates

+0.8
Case Trend Line
Daily cases
Level 1 Lockdown
Level 2 Lockdown
| | Date | Status | New Cases/1M |
| --- | --- | --- | --- |
| 1 | Jun 05 | Religious services with fewer than 100 people are allowed | 9.11 |
| 2 | Jun 15 | Schools and universities reopen | 0.00 |
| 3 | Sep 01 | International flights resume, with Covid-19 protocols in place | 5.21 |
| 4 | Jan 31 | Reintroduced restrictions on large gatherings and sporting events, mandated restaurants run on take-away basis only, increased telework.. | 50.95 |
Compared with Other African Countries
97.2

Senegal

36,996
Cases 8
Per 1M 148
Deaths

Senegal's COVID-19 policy response has been very strong across the board, buoyed by strong public health directives and a reliance on science and facts.

72.2

Kenya

113,967
Cases 6
Per 1M 686
Deaths

Kenya has a strong overall policy score, although down significantly from January. However, it is consistently scoring well in all areas, particularly its reliance with respect to facts and science on COVID-19.

62.4

Ethiopia

176,618
Cases 16
Per 1M 1,355
Deaths

Despite having relatively weak pre-pandemic capacity, swift action and prevention-based messaging from the government helped mitigate spread early on in the crisis.

71.5

South Africa

1,530,033
Cases 88
Per 1M 1,190
Deaths

Overall, South Africa's score is relatively strong with vigorous policy implementation—particularly with respect to lockdowns—offset by its relatively meager financial response.
Be the source of actionable insight.
Select one of the subscription options below to read the full Covid-19 Global Response Index. Unlock even more global intelligence with a subscription to FP Insider.
Already an FP Insider? Log In
Looking for group access? Contact us directly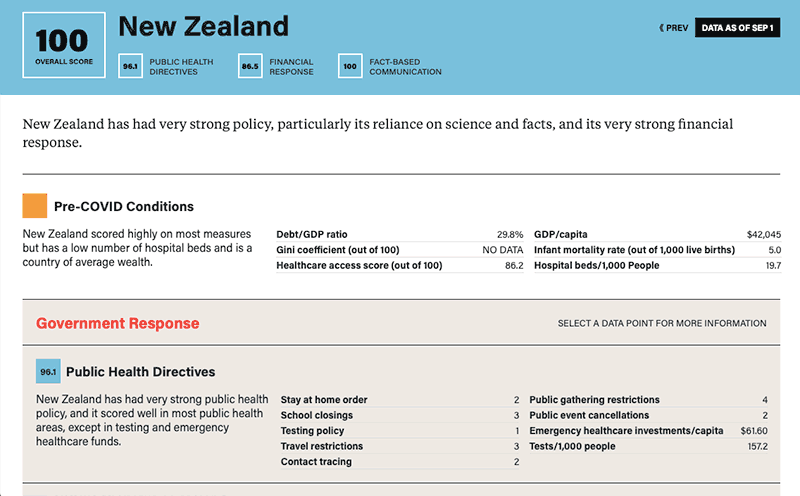 Statistics and government response factors available on each country profile include:
Pre-COVID Conditions:
Debt to GDP ratio
Infant mortality rates
Hospital beds per 1,000 people
Gini coefficients measuring inequality
Health access and quality
COVID-19 Public Health Directives:
Stay-at home orders
School-closing policy
Public-gathering restrictions
Cancellation of public events
Testing policy and rates per 1,000 people
Emergency healthcare spending per capita
Travel restrictions
Contact tracing
COVID-19 Financial Response:
Stimulus package as a share of GDP
Income support
Debt-forbearance
Public Communications:
Instances of misinformation by leadership
Limitations on press freedom, censorship
Current/Historic In-Country COVID-19 Status:
Death rates per 1 million
Case rates per 1 million