South Korea
40.1

Public Health
Directives

20.6

Financial
Response

88

Fact-Based
Communication
40.1

Public Health
Directives

20.6

Financial
Response

88

Fact-Based
Communication
South Korea scores around the median, largely due to its very weak financial policy; its public health score is likely underestimated here, given the data's limitations to adequately account for the impacts of the country's advanced contact tracing.
Pre-COVID Conditions
South Korea has average wealth compared to other countries in the Index but scored strongly in every other subcategory.
Debt/GDP ratio

37.9%

GDP/capita

$46,452

Gini coefficient (out of 100)

31.6

Infant mortality rate (out of 1,000 live births)

3

Healthcare access score (out of 100)

85.8

Hospital beds/1,000 People

83.2
Government Response
Select a data point for more information
(Data points represent policy level as of Aug 1.)
40.1
Public Health Directives
South Korea's public health policy scores near the median, with limited testing, limited emergency healthcare spending, and a relatively weak stay-at-home policy, although the data does not adequately capture the strength of its contact tracing and how that helps overcome many of these shortcomings.
Stay at home order

0

Public gathering restrictions

4

School closings

0

Public event cancellations

1

Testing policy

3

Emergency healthcare investments/capita

$70.61

Travel restrictions

2

Tests/1,000 people

0.2

Contact tracing

2
South Korea's financial response was relatively weak, particularly its very minimal level of income support and small stimulus package.
Financial stimulus as share of GDP

3.4%

Income support

1

Debt forebearance

1
88
Fact-Based Communication
South Korea's government is strong in this category, as it has mostly not engaged in misinformation and has not limited press freedom in response to COVID-19.
Reliance on science/fact based information

1

Press freedom

0
COVID-19 Status as of Aug 1
South Korea has consistently strong scores in this category, helped by its extremely low positivity score, suggesting that it is testing a wide range of people, which likely helped it detect new cases quickly and keep its death rate low.
Total deaths

301

Death rate per 100K

5.9

Total cases

14,336

Cases per 100K

280

Percent of positive tests

0.4
Case Trend Line
Daily cases
Level 1 Lockdown
Level 2 Lockdown
| | Date | Status | New Cases/1M |
| --- | --- | --- | --- |
| 1 | Jun 08 | Schools fully reopen | 0.87 |
Differentiating Factors
Contact tracing and distancing limited spread:

South Korea is widely praised for its pandemic response, which eschewed a lockdown, instead keeping shopping malls and restaurants open by encouraging social distancing and mask-wearing, and implementing an aggressive contact-tracing system which made use of CCTV footage and GPS data from smartphones.

Read More
Increase in violence over wearing facemasks:

Despite being celebrated as an example of the effectiveness of widespread mask wearing, South Korean police departments have recorded an uptick in violence linked to people refusing to wear masks on public transport. Bus drivers have been attacked for requesting passengers wear masks, with the majority of perpetrators charged identified as men in their 50s and 60s.

Read More
Limited prevention in nighclubs, churches, and warehouse likely spiked cases:

A recent uptick in cases in and around Seoul have been linked primarily to nightclubs, church gatherings and a single warehouse operated by Korean e-commerce company Coupang, which has been accused of failing to implement preventive measures and forcing sick employees to come to work.

Read More
Compared with Other African Countries
35.3

China

87,655
Cases 61
Per 1M 4,661
Deaths

China has a weak score, driven by their minimal financial response, and low scores on press freedom and fact-based communications with the public; China's failure to report testing data and questions over data reliability obscure understanding of its actual COVID-19 status.

90

Japan

34,372
Cases 272
Per 1M 1,006
Deaths

Japan has a very strong overall score, driven by its generous financial response and a reliance on facts, although its public health policy is slightly below the median.

60

Taiwan

474
Cases 20
Per 1M 7
Deaths

Taiwan has a relatively strong overall policy score, but does not score as highly as expected due to a lack of lockdown, minimal stimulus, and weak support for debt relief. Given data limitations, the score likely underestimates Taiwan's very strong contact-tracing policy, which is so advanced that it may have diminished the need for other policy responses.
Be the source of actionable insight.
Select one of the subscription options below to read the full Covid-19 Global Response Index. Unlock even more global intelligence with a subscription to FP Insider.
Already an FP Insider? Log In
Looking for group access? Contact us directly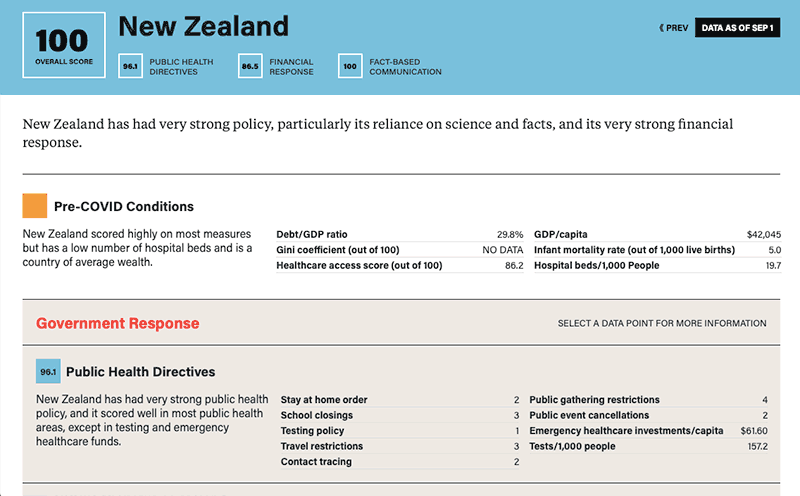 Statistics and government response factors available on each country profile include:
Pre-COVID Conditions:
Debt to GDP ratio
Infant mortality rates
Hospital beds per 1,000 people
Gini coefficients measuring inequality
Health access and quality
COVID-19 Public Health Directives:
Stay-at home orders
School-closing policy
Public-gathering restrictions
Cancellation of public events
Testing policy and rates per 1,000 people
Emergency healthcare spending per capita
Travel restrictions
Contact tracing
COVID-19 Financial Response:
Stimulus package as a share of GDP
Income support
Debt-forbearance
Public Communications:
Instances of misinformation by leadership
Limitations on press freedom, censorship
Current/Historic In-Country COVID-19 Status:
Death rates per 1 million
Case rates per 1 million