28.5
Overall Score
(down 8.1 since Aug 1st.)
38.1

Public Health
Directives

22.4

Financial
Response

40

Fact-Based
Communication
Turkey has relatively weak policy. In addition to limited restrictions on movement, officials have provided little emergency spending, stimulus, or debt relief. They also have limited press freedom and have conducted minimal testing.
Pre-COVID Conditions
Turkey has a universal healthcare system but few doctors available, limiting healthcare access; limited wealth and low numbers of hospital beds left it poorly prepared for the pandemic, bringing its score down to the median.
Debt/GDP ratio

30.2%

GDP/capita

$29,327

Gini coefficient (out of 100)

41.9

Infant mortality rate (out of 1,000 live births)

9

Healthcare access score (out of 100)

76.2

Hospital beds/1,000 People

19
Government Response
Select a data point for more information
(Data points represent policy level as of Sep 1.)
38.1
Public Health Directives
Turkey has a relatively weak public health policy score, driven down by few restrictions on public gatherings, low testing levels, and no emergency healthcare spending.
Stay at home order

2

Public gathering restrictions

0

School closings

0

Public event cancellations

0

Testing policy

0

Emergency healthcare investments/capita

$0.00

Travel restrictions

1

Tests/1,000 people

83.3

Contact tracing

2
Turkey's financial response was very limited, with a small stimulus package and very weak debt policy.
Financial stimulus as share of GDP

3.8%

Income support

2

Debt forebearance

2
40
Fact-Based Communication
Turkey's government is at the median in this category, because while it has not engaged in misinformation, the country's press freedom is as limited as that of any country in the Index in response to COVID-19.
Reliance on science/fact based information

0

Press freedom

3
COVID-19 Status as of Sep 1
Turkey has a relatively strong performance in this category, with a low death rate and very low positivity score, though its press limitations raise concerns about the government's accountability for these numbers.
Total deaths

6,370

Death rate per 100K

75.5

Total cases

270,133

Cases per 100K

3,203

Percent of positive tests

1.4

Change in positivity rates

-0.5
Case Trend Line
Daily cases
Level 1 Lockdown
Level 2 Lockdown
Level 3 Lockdown
| | Date | Status | New Cases/1M |
| --- | --- | --- | --- |
| 1 | May 11 | Some retail shops reopen | 21.36 |
| 2 | Jun 01 | Travel restrictions among 15 major cities are lifted; restaurants, sporting facilities, and government institutions reopen; domestic flights resume | 12.05 |
| 3 | Jun 10 | Curfews on those between ages 18 and 65 ease; opening times for restaurants and similar businesses are extended | 11.11 |
| 4 | Jun 12 | Reopen all land borders, exept with Iiran | 11.20 |
| 5 | Jun 15 | Mandate face masks, implement limited weekend curfews | 13.73 |
| 6 | Aug 26 | Allow flexible working options | 15.90 |
Compared with Other NATO Members
40.8

Belgium

85,142
Cases 7,417
Per 1M 9,894
Deaths

While Belgium has not imposed strict lockdown orders, it has implemented strong testing and contract tracing and generous fiscal supports. Still, its case and death rates are high, with the largest shares of deaths concentrated in elderly care facilities, bringing its score down to around the median. It should be noted that Belgium counts suspected, not just confirmed, COVID-19 cases and deaths, whereas other countries tend to only include confirmed.

59.5

Norway

10,644
Cases 1,963
Per 1M 264
Deaths

Norway scores just above the median, pulled down by its weak public health score, countering its semi-strong financial response and reliance on facts and a free press.
Be the source of actionable insight.
Select one of the subscription options below to read the full Covid-19 Global Response Index. Unlock even more global intelligence with a subscription to FP Insider.
Already an FP Insider? Log In
Looking for group access? Contact us directly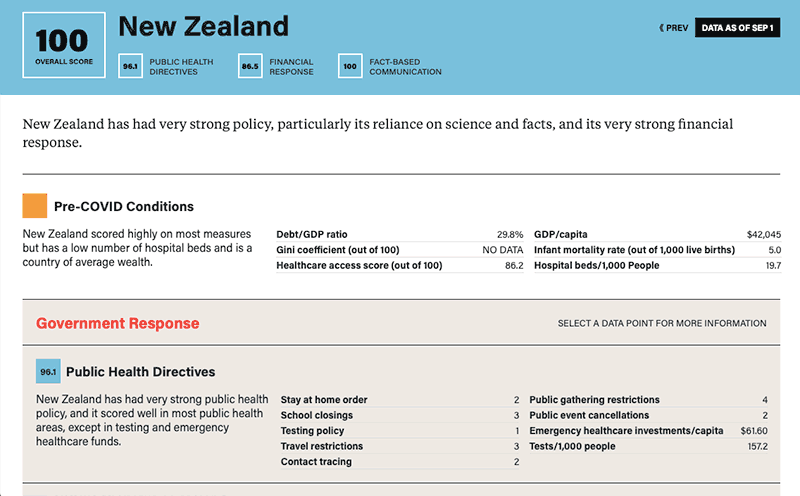 Statistics and government response factors available on each country profile include:
Pre-COVID Conditions:
Debt to GDP ratio
Infant mortality rates
Hospital beds per 1,000 people
Gini coefficients measuring inequality
Health access and quality
COVID-19 Public Health Directives:
Stay-at home orders
School-closing policy
Public-gathering restrictions
Cancellation of public events
Testing policy and rates per 1,000 people
Emergency healthcare spending per capita
Travel restrictions
Contact tracing
COVID-19 Financial Response:
Stimulus package as a share of GDP
Income support
Debt-forbearance
Public Communications:
Instances of misinformation by leadership
Limitations on press freedom, censorship
Current/Historic In-Country COVID-19 Status:
Death rates per 1 million
Case rates per 1 million