79.8
Overall Score
(up 10.3 since Aug 1st.)
59

Public Health
Directives

46

Financial
Response

100

Fact-Based
Communication
Argentina's very strong policy score is mainly due to its strong political response, characterized by clear, fact-based communication and regular press briefings by President Fernandez.
Pre-COVID Conditions
Low availability of hospital beds and a low GDP per capita kept Argentina near the median in its pre-pandemic capabilities.
Debt/GDP ratio

86.1%

GDP/capita

$19,971

Gini coefficient (out of 100)

41.4

Infant mortality rate (out of 1,000 live births)

9

Healthcare access score (out of 100)

68.4

Hospital beds/1,000 People

35.8
Government Response
Select a data point for more information
(Data points represent policy level as of Oct 1.)
59
Public Health Directives
Although it passed a strict stay-at-home order on March 19th, closing schools and banning public gatherings, Argentina's limited testing, minimal travel restrictions, and release of less than $2 per capita in emergency healthcare funding bring down its score substantially.
Stay at home order

3

Public gathering restrictions

4

School closings

3

Public event cancellations

2

Testing policy

1

Emergency healthcare investments/capita

$1.62

Travel restrictions

4

Tests/1,000 people

37.2

Contact tracing

2
While Argentina's stimlus package represents a smaller share of its economy than in other countries in our sample, the country has implemented a generous policy targeting debt relief related to COVID-19, keeping its score near the median.
Financial stimulus as share of GDP

6%

Income support

1

Debt forebearance

2
100
Fact-Based Communication
The Argentine authorities have consistently communicated fact- and science-based information to the public through weekly press briefings.
Reliance on science/fact based information

0

Press freedom

0
COVID-19 Status as of Oct 1
Argentina performs very poorly overall, and its extremely high positive test rate suggests that the country is only testing its sickest people, masking the true extent of COVID-19's spread, which is troubling because it has a very high case rate.
Total deaths

16,937

Death rate per 100K

374.7

Total cases

750,988

Cases per 100K

16,616

Percent of positive tests

67.2

Change in positivity rates

+26.2
Case Trend Line
Daily cases
Level 2 Lockdown
Level 3 Lockdown
| | Date | Status | New Cases/1M |
| --- | --- | --- | --- |
| 1 | Jul 17 | Some shops, hair salons, professional services reopen; outdoor activities allowed | 76.27 |
| 2 | Jul 31 | Lockdown is extended until August after cases rise | 117.26 |
| 3 | Sep 21 | Lockdown further extended until October 11th. | 241.66 |
Compared with Other Western Hemisphere Countries
48.2

Brazil

4,810,935
Cases 22,633
Per 1M 143,952
Deaths

Brazil scores near the median, primarily due to its poor public health policies, especially its very low levels of testing, coupled with President Bolsonaro's spreading of misinformation about the virus.

52.8

Mexico

743,216
Cases 5,764
Per 1M 77,646
Deaths

Mexico score has deteriorated over time, due primarily to its extremely weak financial response and relatively weak public health policy, including very limited testing.

39.1

United States

7,233,043
Cases 21,852
Per 1M 206,928
Deaths

The United States' policy has been relatively weak, given the federal government's limited use of facts and science, limited emergency healthcare spending, and limited debt relief.

76.2

Canada

158,758
Cases 4,206
Per 1M 9,297
Deaths

Canada's scores above the median, due to a generous financial response and a reliance on fact-based communications, but is hurt by a relaxed lockdown, poor contact tracing, and little emergency healthcare spending.
Be the source of actionable insight.
Select one of the subscription options below to read the full Covid-19 Global Response Index. Unlock even more global intelligence with a subscription to FP Insider.
Already an FP Insider? Log In
Looking for group access? Contact us directly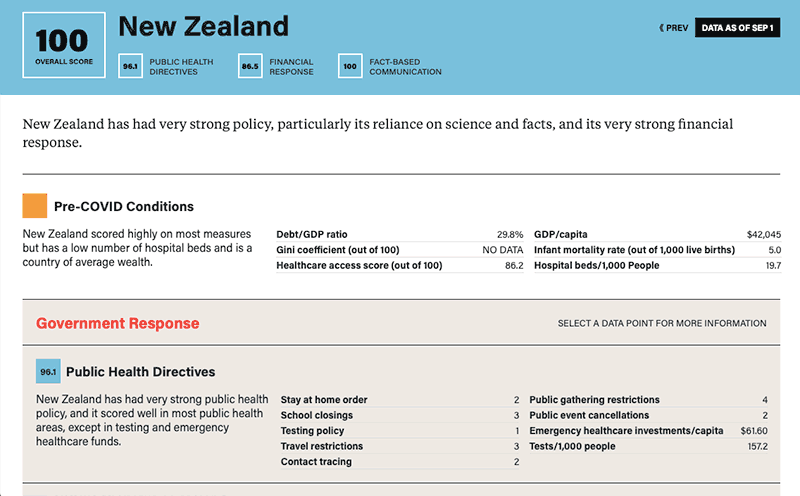 Statistics and government response factors available on each country profile include:
Pre-COVID Conditions:
Debt to GDP ratio
Infant mortality rates
Hospital beds per 1,000 people
Gini coefficients measuring inequality
Health access and quality
COVID-19 Public Health Directives:
Stay-at home orders
School-closing policy
Public-gathering restrictions
Cancellation of public events
Testing policy and rates per 1,000 people
Emergency healthcare spending per capita
Travel restrictions
Contact tracing
COVID-19 Financial Response:
Stimulus package as a share of GDP
Income support
Debt-forbearance
Public Communications:
Instances of misinformation by leadership
Limitations on press freedom, censorship
Current/Historic In-Country COVID-19 Status:
Death rates per 1 million
Case rates per 1 million