47.6
Overall Score
(up 6.4 since Aug 1st.)
88.7

Public Health
Directives

40.7

Financial
Response

16

Fact-Based
Communication
Russia has a relatively weak score, with strong public health policy undone by weak financial support, limitations on press freedom, and spread of misinformation about the pandemic.
Pre-COVID Conditions
Russia was relatively strong in pre-pandemic preparedness but is not a wealthy country, and it scores around the average for hospital beds and healthcare quality and access to care.
Debt/GDP ratio

14.6%

GDP/capita

$30,820

Gini coefficient (out of 100)

37.5

Infant mortality rate (out of 1,000 live births)

6

Healthcare access score (out of 100)

71.7

Hospital beds/1,000 People

59.1
Government Response
Select a data point for more information
(Data points represent policy level as of Sep 1.)
88.7
Public Health Directives
Russia has had strong public health policy, owing to restrictions on social gatherings, although it does limit who can get tested and has little emergency healthcare spending related to COVID-19.
Stay at home order

0

Public gathering restrictions

4

School closings

0

Public event cancellations

2

Testing policy

3

Emergency healthcare investments/capita

$13.64

Travel restrictions

3

Tests/1,000 people

251.5

Contact tracing

2
Russia's financial response was slightly above the median; its debt support was strong, but its stimulus was small, and it had very little income support.
Financial stimulus as share of GDP

3.4%

Income support

1

Debt forebearance

2
16
Fact-Based Communication
Russia scores low in this category, as it has propagated false information on COVID-19 and has greatly limited press freedom in response to the pandemic.
Reliance on science/fact based information

2

Press freedom

3
COVID-19 Status as of Sep 1
Russia has a relatively strong score in this category, with a low death rate that is counterbalanced by a very high case rate; limited communication of facts and restrictions on press freedom regarding COVID-19 raise concerns about the accuracy of the data.
Total deaths

17,176

Death rate per 100K

117.7

Total cases

995,319

Cases per 100K

6,820

Percent of positive tests

1.7

Change in positivity rates

-0.4
Case Trend Line
Daily cases
Level 2 Lockdown
Level 3 Lockdown
| | Date | Status | New Cases/1M |
| --- | --- | --- | --- |
| 1 | Jun 08 | Retail and restaurants start to reopen (varies by region) | 60.53 |
| 2 | Jun 22 | Final restrictions are lifted, including on gyms and restaurants | 54.54 |
Differentiating Factors
False news law limited press freedom:

Press freedom in Russia has been severely curtailed by the passage of a law which makes spreading 'false information' about coronavirus punishable by up to five years in prison. The law is similar to those passed in Hungary and India.

Read More
Amendment allows Putin to stay in power:

Russians voted in early July to pass a constitutional amendment that allows President Putin to serve a further two terms, keeping him in power until 2036, and consolidating his control of the country. Golos, an independent Russian election monitoring group, has condemned the vote, saying it received over 2,000 complaints of violations of democracy.

Read More
Government likely consolidating power through travel restrictions:

Putin has been accused of using the pandemic to consolidate his power and control over the country. In addition to the constitutional amendment, campaigners have condemned the implementation of a new 'digital pass' system which requires Russians to get permission to travel by vehicle or public transport due to the pandemic.

Read More
Compared with Other Arctic States
73.1

Canada

128,948
Cases 3,417
Per 1M 9,126
Deaths

Canada's relatively strong score, due to a generous financial response and a reliance on fact-based communications, is hurt by a relaxed lockdown, poor contact tracing, and little emergency healthcare spending.

31.2

United States

6,031,013
Cases 18,220
Per 1M 183,598
Deaths

The United States' policy has been relatively weak, given the federal government's limited use of facts and science, limited emergency healthcare spending, and limited debt relief.

59.5

Norway

10,644
Cases 1,963
Per 1M 264
Deaths

Norway scores just above the median, pulled down by its weak public health score, countering its semi-strong financial response and reliance on facts and a free press.

53.9

Sweden

84,379
Cases 8,356
Per 1M 5,831
Deaths

Despite being known for a relatively strong public healthcare system, Sweden has been hit hard with cases; the country's lack of stay-at-home orders and school closures, limited testing, and few gathering restrictions overshadowed its financial support and a reliance on facts and accountability with an open press.
Be the source of actionable insight.
Select one of the subscription options below to read the full Covid-19 Global Response Index. Unlock even more global intelligence with a subscription to FP Insider.
Already an FP Insider? Log In
Looking for group access? Contact us directly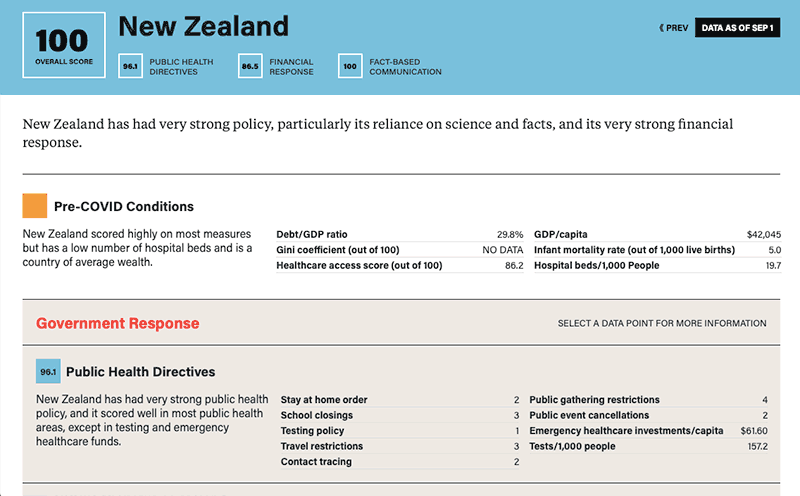 Statistics and government response factors available on each country profile include:
Pre-COVID Conditions:
Debt to GDP ratio
Infant mortality rates
Hospital beds per 1,000 people
Gini coefficients measuring inequality
Health access and quality
COVID-19 Public Health Directives:
Stay-at home orders
School-closing policy
Public-gathering restrictions
Cancellation of public events
Testing policy and rates per 1,000 people
Emergency healthcare spending per capita
Travel restrictions
Contact tracing
COVID-19 Financial Response:
Stimulus package as a share of GDP
Income support
Debt-forbearance
Public Communications:
Instances of misinformation by leadership
Limitations on press freedom, censorship
Current/Historic In-Country COVID-19 Status:
Death rates per 1 million
Case rates per 1 million