66
Overall Score
(up 6.3 since Aug 1st.)
68.9

Public Health
Directives

19.7

Financial
Response

100

Fact-Based
Communication
Saudi Arabia has a relatively strong policy response to COVID-19, with a reliance on facts and science, and tight restrictions on public gatherings, although its weak financial response brings its score down.
Pre-COVID Conditions
Saudi Arabia was strong in most categories, but has a very low number of hospital beds.
Debt/GDP ratio

19%

GDP/capita

$56,912

Gini coefficient (out of 100)

NO DATA

Infant mortality rate (out of 1,000 live births)

6

Healthcare access score (out of 100)

79.4

Hospital beds/1,000 People

19
Government Response
Select a data point for more information
(Data points represent policy level as of Sep 1.)
68.9
Public Health Directives
Saudi Arabia has had relatively strong public health policy, excelling in almost every area except testing and emergency healthcare spending.
Stay at home order

1

Public gathering restrictions

3

School closings

0

Public event cancellations

2

Testing policy

3

Emergency healthcare investments/capita

$4.02

Travel restrictions

4

Tests/1,000 people

145.4

Contact tracing

2
Saudi Arabia scored relatively weak due to non-existent stimulus and weak debt policy.
Financial stimulus as share of GDP

-2.6%

Income support

1

Debt forebearance

0
100
Fact-Based Communication
Saudi Arabia's government has not been found to engage in misinformation or limit press freedom in response to COVID-19.
Reliance on science/fact based information

0

Press freedom

0
COVID-19 Status as of Sep 1
Saudi Arabia scores relatively strongly in this category influenced by a low positivity score and death rate, suggesting that its strong public health policies are helping to control the severity of cases.
Total deaths

3,897

Death rate per 100K

111.9

Total cases

315,772

Cases per 100K

9,070

Percent of positive tests

2

Change in positivity rates

-1.3
Case Trend Line
Daily cases
Level 1 Lockdown
Level 2 Lockdown
Level 3 Lockdown
| | Date | Status | New Cases/1M |
| --- | --- | --- | --- |
| 1 | May 28 | Domestic movement is allowed, retail and malls reopen | 65.64 |
| 2 | May 31 | Employees are allowed to return to work with minimal staff; domestic flights, rail, and public transit reopen; mosques and restaurants reopen | 54.26 |
| 3 | Jun 21 | Curfew is fully lifted; domestic travel returns to normal levels | 126.90 |
| 4 | Aug 24 | Land borders reopen to Saudi citizens and their non-Saudi family | 36.67 |
| 5 | Aug 30 | Public sector employees return to work | 30.94 |
Differentiating Factors
Government supported private sector:

Saudi Arabia has mobilized more than 3.5 billion riyals ($933 million) to support 480,000 private sector workers, including by covering up to 60 percent of salaries. Before the pandemic hit, the unemployment rate was already high, at 12 percent.

Read More
2020 Hajj had major restrictions:

While typically attracting around 2.5 million people, Saudi authorities put a 10,000 cap on the 2020 Hajj. Attendance was limited to Saudi citizens (including expatriate citizens). A coronavirus test and short quarantine were also required in advance of the pilgrimage.

Read More
Better digital infrastructure enabling more telework:

Many Saudi white collar workers have been able to easily transition to remote working, a success the World Bank credits to the Vision 2030 plan, which focused on improving digital infrastructure. More than 90 percent of the population has access to 4G broadband, and online government services have been upgraded to support higher traffic volumes.

Read More
Compared with Other Majority Muslim Countries
80.6

Indonesia

174,796
Cases 639
Per 1M 7,417
Deaths

Indonesia scores relatively weakly, a big drop in the past few months, keyed by substantial weakening of travel restrictions, testing policy, and debt relief.

28.5

Turkey

270,133
Cases 3,203
Per 1M 6,370
Deaths

Turkey has very weak policy, driven by little emergency spending, stimulus, or debt relief, and loosening restrictions. It also has limited press freedom and has conducted minimal testing.

78

Senegal

13,611
Cases 813
Per 1M 284
Deaths

Senegal's COVID-19 policy response has been very strong across the board, buoyed by strong public health directives and a reliance on science and facts.
Be the source of actionable insight.
Select one of the subscription options below to read the full Covid-19 Global Response Index. Unlock even more global intelligence with a subscription to FP Insider.
Already an FP Insider? Log In
Looking for group access? Contact us directly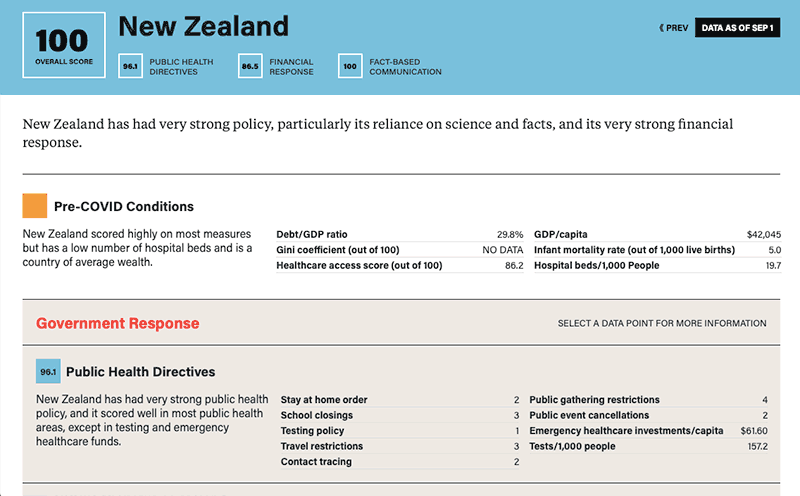 Statistics and government response factors available on each country profile include:
Pre-COVID Conditions:
Debt to GDP ratio
Infant mortality rates
Hospital beds per 1,000 people
Gini coefficients measuring inequality
Health access and quality
COVID-19 Public Health Directives:
Stay-at home orders
School-closing policy
Public-gathering restrictions
Cancellation of public events
Testing policy and rates per 1,000 people
Emergency healthcare spending per capita
Travel restrictions
Contact tracing
COVID-19 Financial Response:
Stimulus package as a share of GDP
Income support
Debt-forbearance
Public Communications:
Instances of misinformation by leadership
Limitations on press freedom, censorship
Current/Historic In-Country COVID-19 Status:
Death rates per 1 million
Case rates per 1 million